Digitex Futures Public Launch Waitlist Reaches 1 Million Signups
Originally published on: CoinSpeaker
Read the original article
February 14, 2019
There may be incessant talk about the bear market but all the indicators of growth are still there. Institutions are investing like never before. The SEC may be coming around to a Bitcoin ETF any day soon, and public interest is still high – at least, it is for the Digitex Futures team. Their public launch waitlist just hit one million signups!
What is Digitex Futures?
If you've been in the Crypto space for some time, you might have heard of Digitex Futures already. The company certainly likes to make noise, with one of the largest and most engaged communities on Telegram.
The brainchild of colorful former pit trader Adam Todd, this bold blockchain startup has some ambitious plans: to offer zero fees on all trades.
As if that wasn't enough to pique the interest of eager traders, the exchange is also integrating plasma technology into its back end to offer users decentralized accounts and become a non-custodial exchange.
You have to admit, no commissions and never having to trust the exchange with their funds is a killer combination.
Recently, the company also announced that it will be adding traditional futures markets to its mix. These will include shares, stocks, bonds, gold, forex, indices, and more. Digitex will also offer spot trading later on this year, making the audience for this exchange potentially massive.
Digitex certainly has ambitious plans, and one could be forgiven for wondering if they can pull it off. 13 months after its sell-out ICO that raised $5.2 million in 17 minutes, the company has yet to deliver its working product.
It's All Riding on Quarter 2 Public Launch
The world of Crypto can be unforgiving. Despite software projects (especially of the complexity that this kind involves) being prone to delays (Kodak, Bakkt, Constantinople), the Digitex community was disappointed when the company pushed back the onboarding for its closed Beta, slated for Jan 15.
This was reflected by a 25% dip in DGTX token price that had been consistently trading at a respectable 6.5 cents prior.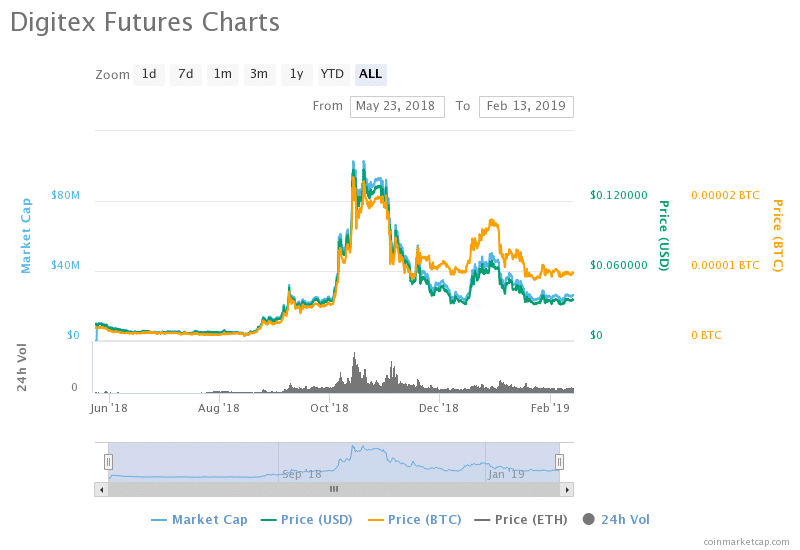 The team also had to fend off angry community members labeling the project a scam. Lucky for investors, though, the Digitex crew has been constantly available. The lights are on and everyone's still home. In fact, the company has scaled its development department to ensure the public launch kicks off smoothly and exceeds the high expectations of the community.
How Does Digitex Manage Commission-Free?
Perhaps one of the most unique aspects of Digitex is that it has a revenue model that actually aligns the company's interests with its customers. The exchange uses a native token DGTX for all trades.
Every trader wanting to use the platform must purchase DGTX. This keeps demand for the token high and results in token appreciation – something both traders and the exchange want.
Moreover, to ensure the operating costs are covered and the company can continue to offer commission-free trading, their proposal is to mint a small number of tokens each year. This will have an inflationary effect on the token price, but there are two reasons the Digitex community will absorb this cost.
Firstly, it will allow more traders to get in and secondly, more traders equals more demand and pushes up the token price, offsetting the inflation effects. Furthermore, any token minting is decided democratically by the community, which means that the token holders decide on how much and when.
Even 5% of 1 Million Is a Busy Exchange
Whatever happens with the Digitex Futures exchange, you can't knock the company's achievements so far. To start with, there aren't many ICOs that sell out in 17 minutes. There aren't many companies that can claim to have one million people actively signed up and waiting for it to release either.
The DGTX has also proven its worth as an investment token as well as an exchange token, going on a mini bull run of its own in October 2018. Going against the bearish trend of all major coins, Digitex soared to over 14 cents trading price before following the general trend of the market.
Even at its trading price today of around 3.5 cents today, it's still made investors a 350% profit post-ICO.
And as CEO Adam Todd points out, even if only 5% of the million people signed up to the waitlist actually open genuine accounts and trades, that's still 50,000 people, which is a busy exchange that will naturally attract more traders. With zero fees, an ultra-sleek user interface, and decentralized account balances, Digitex is truly offering something completely different in the industry.
So if you haven't yet signed up to the waitlist, you can do so by visiting their page. If you refer enough friends to sign up, you'll get pushed up the queue and be in with a chance of winning free DGTX. 100K DGTX to the top 10 on the list and 1,000 DGTX to the first 5,000. We wish them the best of luck.